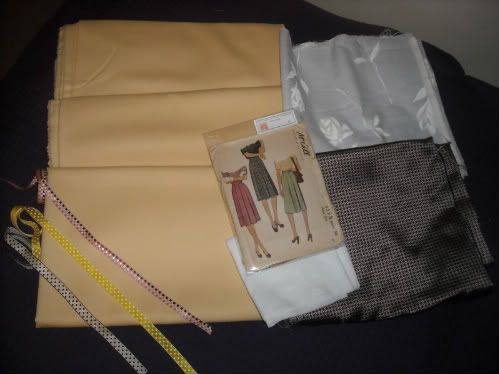 I went to the
Sewing Expo
today with me mum, and since today was the last day it's going on, we got some nice discounts. They actually handed out little coupon books, which was a first this year. But as a poor college kid, I'm not complaining. ;-)))))
Right, so this year I got some fabulous items, but all aimed toward vintage/modern sewing! I got 7 yards of yellow wool from the Pendleton booth at the fabulous rate of $4 a yard (I'll be able to knock out a few modern projects with that), 3 cute ribbons for headbands, a 1940s skirt pattern, a lavendar linen with a white rose pattern (to make a copy of
this
Emma Pillsbury dress in a different colorway) and a very neat red silk print that is sort of like a men's tie fabric but will be made into
the Sencha blouse
(the pattern of which I got for Christmas!). Most years I come away with a ton of stuff for reenacting, but this year I'm more into using what I already have. Although I did buy some white batiste for undersleeves, collars, and cuffs (shown under the 1940s skirt pattern). But I didn't buy anything from the French laces guy (who is actually Belgian) and typically has fabulous stuff. This is my 3rd (or 4th) year attending, and I definitely have favorite booths that I always frequent, and it seems like their merchandise hasn't changed a whole lot.
I've had a crazy amount of deadlines (I had a scholarship, paper, and presentation due every other day this past week) which has kept me occupied and catatonic at night. But, on Friday night I somehow summoned the energy to mock up another fan-front bodice from
the Laughing Moon pattern
. I realized that it didn't fit last time because a) I cut it out a size too big and b) I used super cheap-o fabric that just stretched. So, I cut out the bodice in the right size this time and used actually sturdy muslin and that seemed to solve all my fitting issues. If only all bodices were this easy to fit . . .
I'm quite smitten with the results, although I might take some of the width out of the fan part of the dress, as it's quite full. I'm making this up in a green wool plaid that I got in remnants at the Pendleton outlet a few months ago for $5 a pound, and you really can't beat that.
So, this week's goal is to get the fan cut out and hand-gathered. In-between writing the 10 page paper I have due on Thursday. Have I mentioned yet how excited I am for Sping Break?
Current Mood:
Eating cake!
Current Music: "Your Diary" - Franz Ferdinand